What are the types of no show socks?
Views: 0 Author: Site Editor Publish Time: 2021-09-06 Origin: Site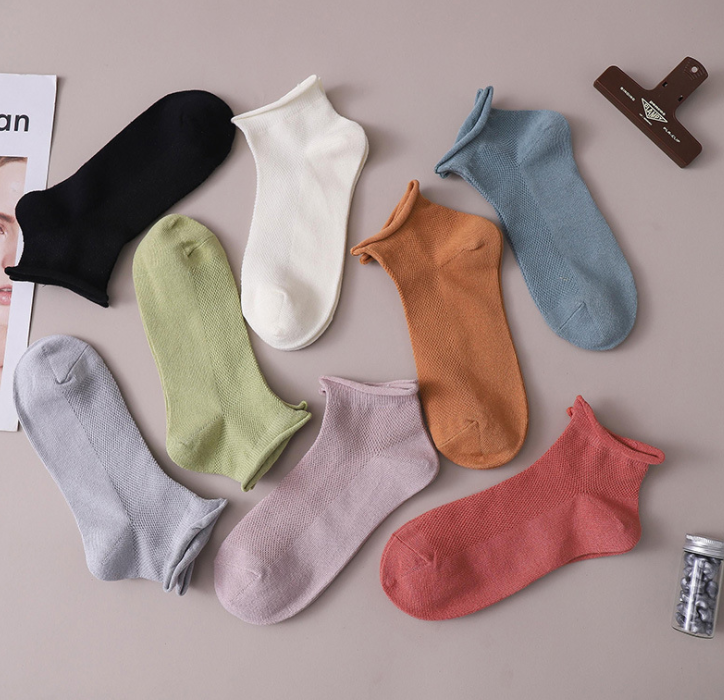 There are a variety of invisible socks on the market, depending on their size. To help you figure out which style is best for you, we've broken down several no show socks based on fit and coverage.
Here is the content list:
Toe cover

Ultra-low cut

Low cut

Mid cut

High cut
Toe cover
Think of these invisible socks as little hats on your toes. They are ideal for preventing blisters on the toes and can be worn with open-back shoes, such as flats and sliders. We recommend these no show socks for women as they can be worn with slingbacks or court shoes to protect your feet from blisters and improve overall hygiene. If you want to extend the life of your favorite heels, wearing no show socks is a great way to protect the inside of your shoes.
Ultra-low cut
For women, these are indispensable socks. Because these ultra-low cut socks can be worn with ballet shoes and high heels, they are extremely versatile. Since this type of shoe has less coverage on your feet, it's important to pick a pair with silicone grips to prevent them from slipping on your feet or clumping up throughout the day. These invisible socks can help you slip into a new pair of closed-toe heels because they help prevent blisters.
Low cut
This low cut style is ideal for those who want to experiment without showing off socks. They offer a medium range of coverage and can be worn in trainers, loafers or Mary Jane shoes. The low cut socks provide enough support to protect the soles of your feet without making your shoes stand out.
Mid cut
Although medium hose style socks are suitable for both men and women, we especially recommend them for men as they can be worn with casual shoes and boat shoes. They provide a high level of coverage, but are low enough in the front not to show up in most men's shoes. With this style, you're less likely to experience slips, but we still recommend looking for a pair of socks with silicone grips to help mold your feet.
High cut
This cut is ideal for wearing more formal shoes or sneakers and provides the widest coverage of all no show socks styles. We recommend these invisible socks for men as a great way to experiment with fashion, the extra coverage means they're least likely to slip off your feet. If you're going to wear one of these high cut styles, we recommend choosing a breathable fabric, such as cotton or nylon, to prevent sweating.
This style can also be worn with high-top sneakers or ankle boots, since they are most shaped like traditional socks. These no show socks are also great for home wear and can protect your feet from cold surfaces. If you're a runner or a regular exerciser, these high cut socks are ideal for running, as they can help prevent blisters and provide cushioning for your feet against the effects of exercise.
Socks are increasingly becoming a fashion trend. If you're skeptical about wearing traditional socks, we have the perfect solution. No show socks give the illusion that you're not wearing socks at all, but still give you the health and comfort benefits of traditional socks.