What are the types of newborn socks?
Views: 0 Author: Site Editor Publish Time: 2021-10-11 Origin: Site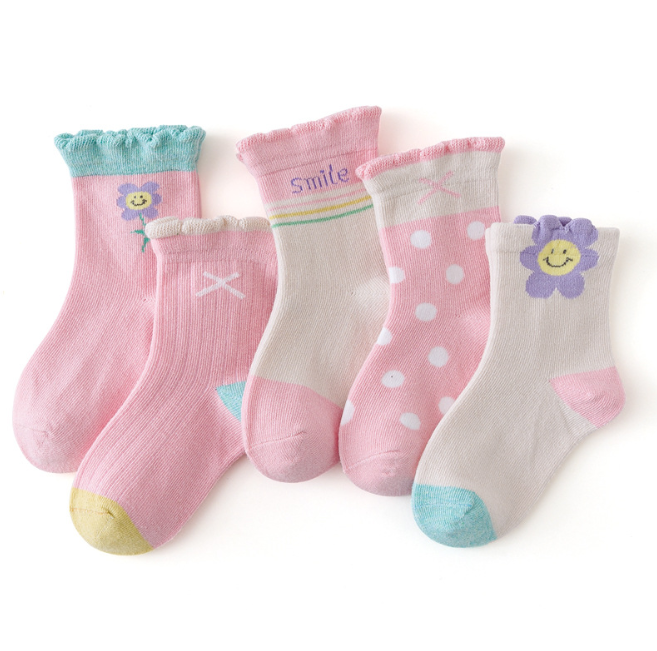 In addition to choosing the style, you should also need to find the right type of children socks for your child. You can according to the child's character characteristics and often carries on the activity to choose the appropriate kid socks. Find out more about the types of newborn socks available to better understand the socks available to children.
Here is the content list:
Sport socks
If your child is active, purposeful athletic socks often use thicker materials to support a busier lifestyle. Many include cushioning on the sides to increase kid's comfort of running on a basketball court or playground. This kind of newborn socks can absorb sweat, prevent odor, especially suitable for children who often exercise.
Dress socks
Dress socks are usually designed with thinner fabrics and are intended for special occasions. However, most children's shoes are still thick enough to provide comfort and cover for small feet. You can choose from crew-cut to knee-length socks, as well as neutral colors kid socks such as black, navy and brown.
No-slip socks
For young children who are just gaining leg strength, developing motor skills and learning how to keep balance, walking requires a pair of socks designed specifically for their new, more active lifestyle. No-slip kid socks are ideal for busy little boys and girls walking on the floor for the first time. If your child is just a toddler, choose socks with rubber added to the bottom of the sole to provide enough traction to enhance stability and prevent skidding. Because of their innovative design, they are ideal for wearing inside and out.
Fun socks
Themed and designed socks are a must for most children. Very popular children crazy socks featuring vibrant colors, lively designs and vibrant prints. Kids love to show off fun socks' patterns, and parents love to pair them with casual dresses, jeans, skirts and shorts. Find kid socks that range from stripes to prints to animal prints to complement your child's colorful personality.
Seasonal themes kid socks
Sometimes, seasonal weather and holidays can affect the styles and types of kid socks. Surprise your kids with designs that are popular at a particular time of year. Pick brightly colored, holiday-themed children socks for Christmas, Easter, Valentine's Day, Thanksgiving and Independence Day. Add a few pairs of themed newborn socks to your child's wardrobe to both get them excited about the season and expand their stocking options.
But it's not just interesting patterns that you need to consider. You also need to consider the weather type of each season. In winter, opt for thick, fluffy, seasonally themed kid socks that provide warmth and comfort when the temperature drops. On the other hand, for spring and summer, you'll want lighter, cooler children socks. The key is to choose the right baby socks without sacrificing comfort, style and fun.
There are many things to consider when you start shopping for kid socks for your children. Whether it's a comfortable pair of baby boots or choosing the most comfortable tights for toddlers, you need to focus on fit and style. The child's lifestyle is also a big factor. The durability, comfort and construction of socks play a crucial role in the functionality of children socks.