Anti Fog Wipes For Glasses
Views: 2 Author: Site Editor Publish Time: 2020-11-27 Origin: Site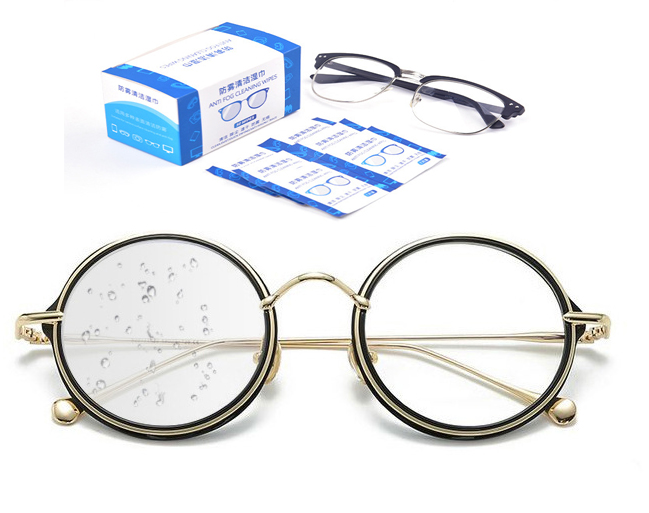 In our daily life, fog has caused us a lot of trouble. For example: when we walked out of the warm room outside in winter, the glasses immediately formed a fog, which blurred our vision; when we were preparing to eat hot meals, when eating hot pot, the glasses would also have fog generated , causing a lot of embarrassment; when wear masks during pandemic, there will formed fog in the eyeglasses, there are mirrors in the bathroom after the shower, digital cameras, telescope lenses, etc. At this time, the anti-fog wipes have a wide range of uses, suitable for defogging, anti-fogging, defrosting, and super decontamination cleaning for any glass.
  During winter or rainy season, the temperature difference between the inside and outside of the car and there is plenty of water vapor in the car and the humidity is high, the window glass will fog. Especially when the front window windshield and the rearview mirror are fogged, the fog will seriously affect the driver's sight and hinder driving safety. If the air conditioner is turned on for a long time to drive the fog, the effect is not obvious, and the long-term use of the air conditioner to dehumidify will increase a lot of fuel consumption; Fangjie anti-fog wipes remind you, especially the bus driver, not to clean the front window glass Use towels to wipe during driving, which poses a great hidden danger to safe driving. It is best to use anti-fog wipes. Anti-fog wipes are made with a unique formula to deal with this phenomenon. They are used for anti-fog work on automobile glass to maintain a clear sight of the driver and reduce the occurrence of traffic accidents. Due to the convenience and convenience of anti-fog wipes, it gradually replaces the use of sprays.
Materials:
the anti fog wipe made of non-woven fabric and nano active agent, deionized water, surfactant, isopropanol, menthol, polyethylene glycol, glycerin, PEG-600, polyvinylpyrrolidone, fragrance, antiseptic Refined from professional formulas
PH Value:6.5-8
Application:
Plexiglass, inorganic glass, plexiglass, optical glass, spectacle lens, optical lens, swimming goggles lens, instrument glass, windshield doors and windows, photographic equipment lens, high-end precision glass, high-efficiency anti-fog, airplane, car, train windshield Anti-fog; anti-fog treatment for diving goggles lens, photographic equipment lens, medical chemical experiment equipment lens, optical instrument lens, building door and window glass, hotel bathroom wall glass, etc.
Features:
 1: This product is made of surfactant materials, which can not only remove stubborn oil stains, dust, dirt, gum and insect stains on the glass surface, but also powerful to removing glass oil film, and forms a protective film on the glass surface to prevent oil film damage the glass,and keep the glass clear and transparent.
   2: Easy to use, independent packaging, easy to carry. easy to carry for travelling.
   3: powerful cleaning the glasses surface
   4: The glass surface is not easy to absorb dust, and the performance is safe and stable;
   5: excellent anti-fogging effect; long anti-fogging time, eliminating the trouble of repeated defogging;
   6: Water-based materials, eco-friendly and clean;