5 occasions to wear fuzzy socks
Views: 0 Author: Site Editor Publish Time: 2021-12-10 Origin: Site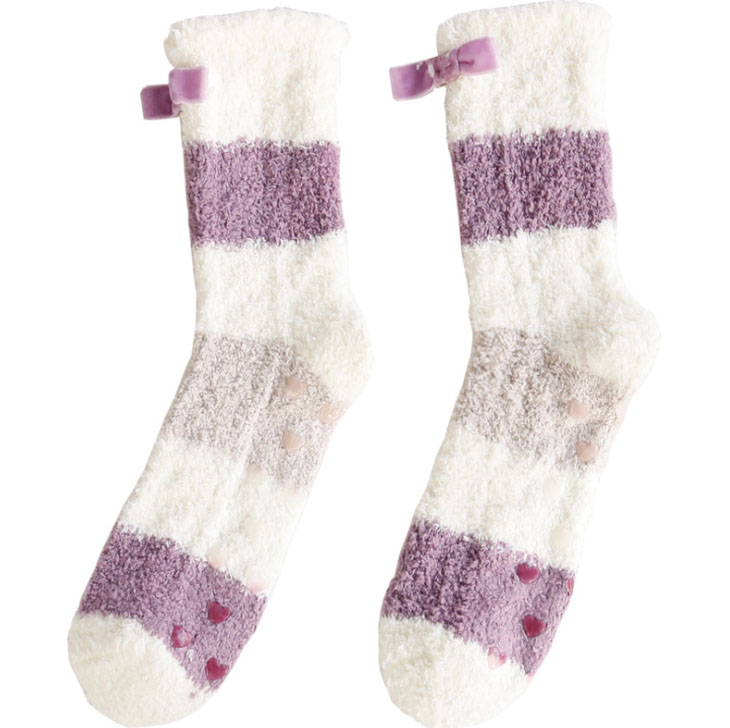 When you think of slipper socks, they're usually snuggled firmly on cold feet to warm in front of a fireplace in the middle of winter. But these versatile shoes can be worn year-round and, unlike real slippers, can easily be thrown into the washing machine when they get dirty. Here are five situations in which fuzzy socks can be popular.
Here is the content list:
l Camping
l Barbecue
l Patios and tiled floors
l After a bath
l In the school
Camping
Although we tend to go camping in the summer, the evenings and mornings can still be cold. Pack up your slipper socks so you can keep your toes warm all night. They'll be ready to wear while you're busy preparing a pot of coffee on the stove in the morning. Fuzzy socks are easier to put on in the morning than shoes. If you get hot at night, you can simply take them off.
Barbecue
One of the joys of summer is barbecues and long summer nights. Once the flames had died down to embers, the sun began to set very slowly and the temperature outside began to drop. But you don't want to go in just yet -- dawn is still a few hours away, and there's at least one bottle of wine to share with your friends and family. When the stars appear overhead, whip out your warm pullover or sweater and pair it with a pair of fuzzy socks for a snug late night.
Patios and tiled floors
Even on a warm summer day, a tile floor in a bathroom or kitchen can feel cold underfoot. Keep a pair of cozy socks by your bed to keep your toes from getting cold. They even work while you're on vacation. Many hotels, apartments and holiday homes in places like France and Spain are covered with terracotta tiles, which keep them cool even in summer. And as an added bonus, many slipper socks include non-slip soles, so you can easily navigate the unfamiliar tile stairs.
After a bath
After a hard day at work, at the gym, or running around with the kids, a hot bath might be just what you need. But putting on clothes after going outside will take the sun out a bit -- especially if it's a pair of sweaty socks. Instead, put on your dressing gown and pair it with a pair of fuzzy socks. This will keep you warm and comfortable before you go to bed.
In the school
It may sound strange, but a primary school in Derby has asked children to remove their shoes in the classroom, with many wearing slipper socks. One study found that making students take their shoes off helps them participate better in class. Also, no hard shoes means the school is cheaper to clean, the furniture lasts longer, the floors are cleaner, and you need less furniture. For adults, consider bringing your fuzzy socks to college and wearing them to lectures or seminars to make you feel more relaxed.
Putting on a pair of cozy socks is always easier and more comfortable than putting on a pair of shoes. Wear fuzzy socks on some leisure occasions, can make people more cheerful and relaxed.