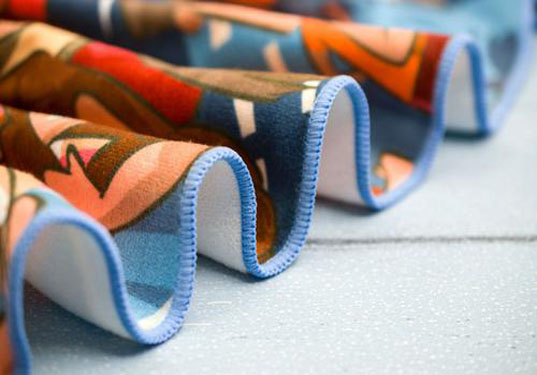 FAQ For The Towel
Q: How do I measure the quality of a towel?
A: There are many different components to a towel, but the general rule is that a heavier towel is suitable for the bathroom, where it can dry out easily between uses, whereas a lighter weight towel is better suited to the beach, where it gets more frequent use in one period. The yarn is very important and will reflect in the price of the towel.
Q: What does Gm2 mean?
A: Gm2 is a measure of weight: 'grams per square meter'. For example, a towel 75cm wide x 150cm long that weighs 500 gm2 will be 0.562 grams per piece.
Q: What is a jacquard towel?
A: A jacquard towel is a towel made from coloured yarns to weave the pattern (Logo) into the towel. A jacquard towel is often made with two colours, but sometimes more colours more can be woven. A jacquard towel usually has the pattern (logo) in reverse on the back of the towel. (Like a negative).
Q: What is velour?
A: Velour is a process not a fibre. Velour is part of the finishing process of a towel. When a towel is made on a towel loom, there are terry loops on both sides of the towel. Part of the finishing process is to shave the top of the loops off one side to create a soft velvety finish on the towel. You cannot 'velour' both sides of the towel. Another term for velour is 'shearing' or 'sheared'.
Q: Why don't velour towels dry as well as terry towels?
A: The velour side of the towel is definitely not meant for drying…it is meant to be sat on or laid on the beach! The scientific action of water on the velour means that the water does not absorb as easily and you should always use the terry side to dry yourself.
Q: Do towels shrink?
A: Shrinkage will occur with all towels made of natural fibres like cotton and the amount of shrinkage will range from 4 -10%. Our jacquard towels are supplied in the natural or loom state form, so have not been pre-shrunk. Once washed, as per our washing instructions, the towels will shrink, become more fluffy and the pile becomes soft and dense and less likely to pull. There will always be a little pilling. Towels washed in hot water or dried at hot temperatures will shrink excessively. Loom state jacquard items normally shrink more than piece dyed bath towels.
Q: What is the difference between a jacquard towel and a plain dyed towel?
A: A jacquard towel is made on a jacquard loom and uses coloured (dyed) yarns to create a pattern (or logo or photo) on a towel. A plain dyed towel is made on the loom from yarn in its natural or raw state and then the whole towel is dyed, hence piece dyed towels.
Q: What is a dye batch?
A: Yarn or towels are dyed in big dying vats or vessels, similar to other textile dying methods. A dye batch for yarn or towels determines the minimum quantity that can be dyed at once.
Q: What is a screen print?
A: Towels can be screen printed using water based pigment dyes which are spread across the surface of the towel with a screen and squeegee. Lighter weight towels in terry or velour are best for screen printing. Screen or pigment printing is suitable for small quantities.
Q: What is a fiber reactive printed towel?
A: For larger towels quantities reactive dying is appropriate. Reactive dyes are used where many colours are required.Fiber reactive dyes react chemically to combine with and dye the fibers of the towel.. The soft handle is achieved by washing the towel after printing, which removes any excess inks and gives the towel a soft handle.
Artwork Specifications for your screen printed Towels
1. How do I supply my project artwork?
You can supply your artwork in either MAC or PC format.
2. What happens if changes need to be made to my artwork, or if I don't have artwork to supply?
If you would like a qualified Graphic Designer to make changes, re-design.
3. What Programmes and Formats are supported for the design
Adobe Illustrator: EPS or AI
Adobe PhotoShop: PSD (High Res), EPS (High Res) or TIF (High Res)
NO JPEG or TIFF FILES, please
Please make sure you supply fonts outlined.
4. What is the best way to save and supply artwork?
The best way to save your artwork is to make the minimum resolution size at least 300dpi (dots per square inch). Save in proportion and at 25 percent of your desired finished size. We accept artwork via e-mail.
5. The process
Once we receive your artwork, we will review it, and proceed with manufacture. If we have any problems with the artwork provided we will get back to you.
Q: What is digital printed towel?
A:Digital printing is the input of various digital patterns through scanning, digital photos, and image computer processing. Use special RIP software directly prints special dyes on various fabrics or other media through its printing system, and then processes them. After that, it presents various high-precision printing effects. The cotton digital printing towel production requires the cotton cloth to be sizing before spraying on the cloth so as to have fastness. Which is best for velour towels